THE NEW BOARD OF WORLD PCO ALLIANCE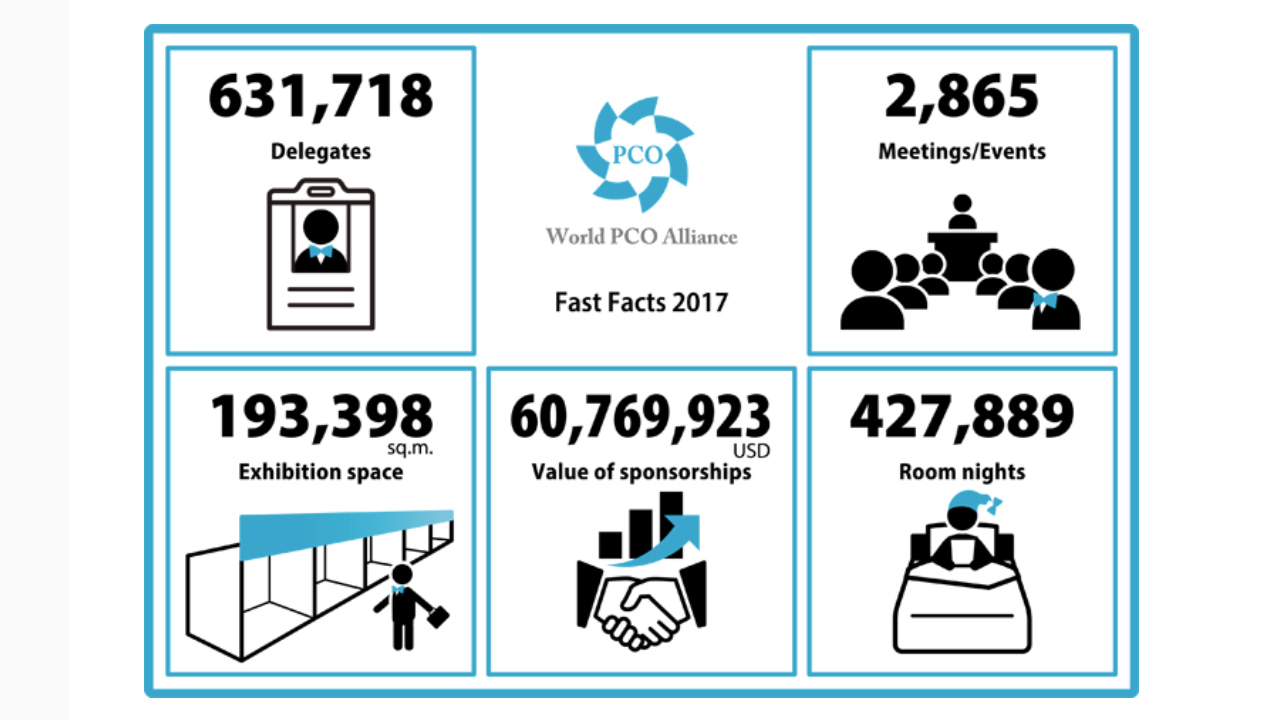 World Professional Conference Organizers (PCO) Alliance is an alliance of 21 PCO leaders from all over the world who manages and plan international conferences, regional or medical, all over the world. World PCO Alliance, founded in 2009, provides leadership and knowledge for delivering the effective and modernized conferences and meetings. All the members of World PCO Alliance collaborate and work together in the marketing industry from vivid parts of the world to promote and develop local as well as international associations and their conferences.
The main objective of World PCO Alliance is to work together for a streamlined promotion and development of associations of any region and the world, to exchange knowledge of education, technology, latest updates, etc. and experience mutual profits and development of the associations.
Recently, the elections were held in the annual general meeting that took place in IMEX in Frankfurt, Germany. The newly elected members are:
1. NOEL MITCHELL (Elected President)
Keynote PCO, Ireland
Education:
● B.A., PhD in Experimental Physics from Trinity College of Dublin(1983-1994)
● Diploma in Management of Scientists and Engineers
● Certified Meeting Planners International (MPI)
Professional Status:
● Founder and Managing Director (Present) of Keynote PCO.
● Conference Director of Ovation group. (1996-2007)
● Over 25 years of experience as a professional in association conference industry.
Area of interest:
● Served as Secretary and Chairperson in Irish Association for Professional Conference Organizers (IAPCO). Also, a council member and founding member of IAPCO.
● Speciality in International bids and management end of big international congresses and events.
---
2. NANCY TAN (Elected Vice-President)
Ace: Daytons Direct (International) Pte. Ltd., Singapore
Professional Status :
● Founder and Managing Director of Ace: Daytons Direct.
● More than 25 years of experience in the industry.
● Works with Singapore Exhibition and Convention Bureau (SECB) and local associations to work for Asian and World Congresses.
Speciality:
● Past treasurer and current Vice-President of Singapore Association of Convention and Exhibition Organizers and Suppliers (SACEOS).
● Respected veteran of convention industry in Asia.
● Active for attending talks as an inspiring speaker for tertiary industries and business summits and conferences.
Awards:
Best Business Event Service Provider and Best Association Conference Organizer at Singapore Tourism Awards 2019.
---
3. ANDRÉ VIETOR: (Elected Treasurer)
Barceló Congresos, Spain
Background:
● A native German born in Frankfurt/Main, Germany.
● An industry veteran with over 35 years of experience in meeting industry.
Professional Background:
● Started his career in the hotel industry at sales position in a renowned international hotel chains.
● In 1991, André moved to Barcelona, joined Pre-opening Sales and Marketing team of Hotel Arts (The Ritz-Carlton Hotel Company).
● Also worked with Viages Iberia (Vibo) Congresos, currently taken responsibility of managing its four offices.
● Currently working at Barceló Congresos at Barcelona region, Spain.
Specialty:
● 2006-2008: Past President ofthe International Association for Professional Conference Organizers (IAPCO).
● 2012-2017: Chairperson of IAPCO Training Academy.
● Responsible for more than 700 successful organized meetings following strongly with the focus on international association meetings.
Area of Expertise:
Consultancy services in business development, plan strategies for association, planning and management of bid presentation, destination marketing and association management.
The newly elected board members will work together with two-year commitment of World PCO Alliance. Compliments and hearty cordial wishes to all the board members of World PCO Alliance. DTORR hopes that you will achieve success by generating stronger presence in the meeting industry.
Published on: April,2020
Image source: Internet